Owning a swim spa is having the best of both worlds. First, you get the backyard swimming pool you've always wanted, but with the relaxation, you need from a hot tub. They have easier installation, a more affordable price, and an energy-efficient design, and you are able to enjoy a pool every day of the year.
If you want the quickest and best overview possible on why and how to buy a swim spa, you've come to the right place! So, let's jump right into our top 7 top buying tips for choosing the best swim spa!
But at Colorado Springs Hot Tubs, we know that buying a swim spa is a big decision. It's important for you not just to get a place to exercise and relax but invest in a quality product.
It combines the benefits of water exercise with the therapy of a hot tub. Swim, walk, jog, exercise, or relax in the convenience of your backyard.
What is a Swim Spa?
A swim spa is a great alternative to a swimming pool. It combines the function of a swimming pool with the benefits of water exercise and the therapy of a hot tub at a fraction of the cost of an inground pool.
A swim spa from Colorado Springs Hot Tubs can be installed in less than a day. A jet or propulsion system creates a current of water that allows people to exercise in place. Whether you enjoy swimming, jogging, or walking, you can move without really moving.
Swim spas, which can be used year-round, also have adjustable massage jets — just like a hot tub. With the option to adjust the temperature, you can relax in warm water when lounging or lower it for exercising.
A good swimming pool season lasts for a few months in Colorado.  A Swim Spa can be used 365 days a year.
Keys to Buying the Right Swim Spa
Where should I put my swim spa?
SwimLife makes swim spas in a variety of sizes, from 12 feet long to 19 feet. They require a level surface that can withstand the weight of the unit filled with water. Make sure to allow for at least two to four feet around the area of your hot tub.
You can put it on a concrete patio or surround it with decking. There is also the option to have a recessed installation that mimics the look of an inground swimming pool.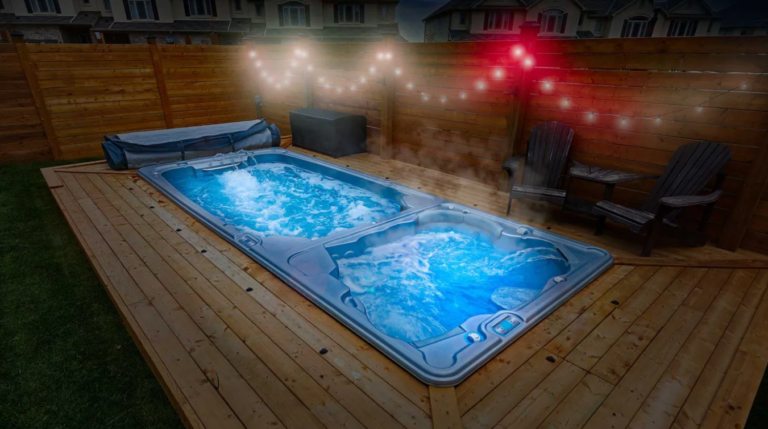 You need to have quick access to your swim spa. It's recommended that you have no more than 10 feet from your home. Anything further has been shown to limit how often people actually uses their swim spa.
What do I need to know about Installation?
Will the location provide you and your guests with enough privacy?
Does the location provide the proper support needed?
Can it be easily serviced if something goes wrong?
Is there a place nearby to put a hardcover when it's removed?
What view with you have when sitting in this location?
Does the location make it easy to get into and out of the spa?
Is it close enough to an electrical source to ensure easy hook-up?
Get to know the swim spa categories.
The first level is 12 ft long and the perfect mini pool for you and your family.  It is ideal for both fun and exercise. It is a compact and versatile spa and a great place to play.
The second level is Swim Fit. This is ideal for families, or anyone looking for a swim spa, or to teach their children how to swim.
The third is the Swim Expert for anyone looking for top swimming performance and swim training, thanks to the adjustable current.
Look at the pump design. Make sure that the system has enough power to achieve the results for the user.
Consider the swim jet system.  Make sure it provides a smooth turbulence-free swim current. Make sure the jets have a consistent flow rate.
And make sure you can dial in the resistance according to the user's swimming level. This way you can customize your experience.