Colorado Springs Hot Tubs
Colorado Springs Hot Tubs Sales and Service Inc. is a one-stop-shop for all your hot tub needs. We offer an extensive lineup of new and used hot tubs, swim spas, and saunas with top-of-the-line brands such as Dimension One Spas and Dreammaker Spas. We also have refurbished hot tubs available if you're on a budget.
Family owned and operated, we proudly serve the new and used hot tub needs of the greater Colorado Springs, Monument, and Woodland Park areas.
Luxurious New Hot Tubs for Sale
When you choose a new and luxurious hot tub from Colorado Spring Hot Tub Sales and Service we will be there for you after the sale.  We are a service minded company and care about our community. 
Not only are you investing in our number one products, you're investing in a hot tub backed by the benefit of 60 years of total experience.
When choosing brands for our hot tub lineup, we only considered brands that were the highest quality with strong energy efficiency scores. We also considered the health of the manufacturer and the availability of parts. From sales to future service, we consider the present and future hot tub needs of our Colorado Springs neighbors.
We only service and repair the hot tub brands that we sell.
What is included with the purchase of a new hot tub?
The sale of our hot tubs includes:
Ozonator
Steps
A brand new cover
Cover lift
Dychlor
Set up and delivery
Warranty
5 Star service
Financing Available
Other stores will charge you for all the extras.
Keeping Your Colorado Springs Hot Tub Clean
Keeping hot tub water sparkling clean has been a challenge for hot tub owners for years. Many hot tub owners depend on weekly chemicals and the costs add up!
Nature has a better way. The Ozonator®eliminates unwanted bacteria and other elements that cause the water to become cloudy and give off unpleasant odors. The Ozonator is hands-free and does not need constant monitoring. 
UltraPure Ozone  Systems are the newest and most efficient Ozone technology.  Stop wasting money on weekly chemicals!
View Testimonials From Our Customers
My old hot tub dealer wanted to charge me over a thousand dollars to fix a crack in the tub that had developed. I had been a loyal customer for years and that just seemed wrong. After the tech missed the first appointment and finally showed up the second time, he seemed confused and told me he would need to pick up the tub to fix it, and then redeliver it when it was done. Also, it was going to cost $1500-$1800 to fix! When I found Colorado Springs Hot Tub Sales and Service, I was so relieved. Dusty was able to fix my hot tub for only $280. The tub didn't even need to be removed and redelivered and it was repaired in less than two hours!
F.B.
Had a few leaking jet pumps, normal wear and tear. Called Dusty on a Monday, returned call the same day, and was out to repair on Friday! As usual, awesome, honest service! Cannot say enough good things about this business. Great experience! Tub delivered earlier then expected and just as described. Had a minor issue and Dusty came out the next day and corrected it with no questions asked! John and Dusty have been great to work with! Highly recommend!!
Drew and Gina B
I purchased my hot tub from Colorado Springs Hot Tubs over two years ago and I have been so happy with this company, I just had to tell someone. The whole purchasing experience was wonderful and they followed through on every single promise they made. When the hot tub was delivered, it looked brand new. It has been incredibly easy to maintain on a regular basis. Last winter I was out of town for a long time and my house sitter allowed the hot tub to freeze. Dusty made sure it was fixed correctly and followed up on his employee's work. Well done!
Barbara

Dimension One Hot Tubs and Spas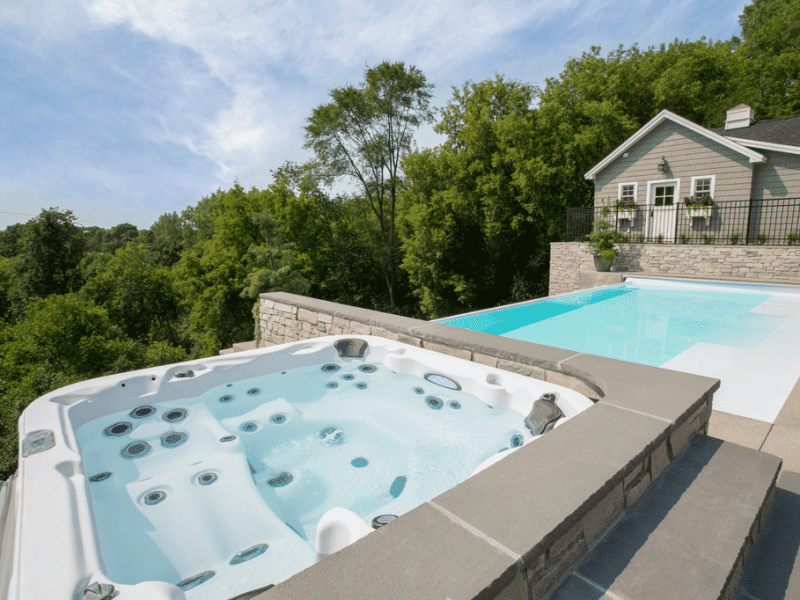 Dimension One Spas use precision engineering that is evident in every detail of every hot tub. Derived from a thirst for knowledge and a love for the latest technology. 
Dimenion One has more than 40 years of experience, and our patented features offer a higher class of design, performance and value.
With over 40 years of pushing the envelope of what a hot tub should be, we have integrated intelligence, utilized the most durable materials and given you more features that give you exactly what you need.
From quality and design to innovation and power, every aspect of your D1 hot tub experience is a luxury oasis. 
Dreammaker Spas all include shipping, ozone, as well as steps. Plug into any 110V outlet. Hot Tubs are moveable anywhere. Easily Affordable Luxury Spas. Each Dreammaker Hot Tub has a rotational molding which is more efficient and durable than any of our other acrylic tubs. 
In the rotational molding process there is no need for an internal support frame; the hot tub shell becomes one piece. The lightweight material makes these affordable Luxury spas are portable and easily drained, filled with a garden hose, and transported to any location without a custom installation. 
We use a plug-and-play technology which means you just need to plug the Hot Tub into any 110v outlet.
The only thing more relaxing than soaking in the comfort of a brand new hot tub is enjoying all the comforts, features, and benefits of that tub at a fraction of the cost. Visit our hot tub showroom today! With a hot tub from Colorado Springs Hot Tubs you can afford to relax in the comfort of your own home.
Swimlife products are designed to bring life back into your backyard. So many families start looking for a pool to answer their aquatic needs, but after a long search and sticker price shock they figure out that SwimLife swim spas are the ultimate answer to all their needs at a price they can afford.  
If you are looking for ways to stay active, defy stress or combat pain, a SwimLife Swim Spa can help you be your best self.  Explore all of our features and conditioning benefits from our swim spas.  Our hydrotherpapy jets offer the user finger tip control of the swim current. 
Experience the serenity and innovation of these outdoor Saunas that are manufactured by Leisurecraft. These are high-end saunas in solid wood with unparalleled beauty and practical advantages.  Your sauna experience will be exciting and a lasting investment for generations to enjoy. 
It's time to start relaxing.  The barrel sauna pictured above has thick walls for a long natural insulation and the barrel design gives you a smaller heating area than a rectangle sauna with plenty of room for multiple people. It comes with 3 different bench options and with the panoramic view, what could be better?
Refurbished Hot Tubs
When we get our hands on these preowned hot tubs in Colorado Springs we make sure to test every part, every flaw corrected, and every feature to original condition. 
We will insulate and reinsulate to make sure each tub uses the absolute smallest amount of energy. In most cases, we will install a new cover measured to fit the tub like a glove, insuring energy efficiency.
CSHT will offer only top rated energy efficient tubs so you can relax. Don`t take a chance adding stress by taking someone else's unwanted tub with unknown repairs needed and unknown energy costs. Colorado Springs Hot Tubs are a bargain with free peace of mind!!
We provide hot tub services and repair on the following hot tubs:
Watkins

Hot Spring

Freeflow

Dimension One

Jacuzzi

Sundance

Caldera

Hot Spot

Tiger River

Limelight

Arctic Spas

Marquis Spas